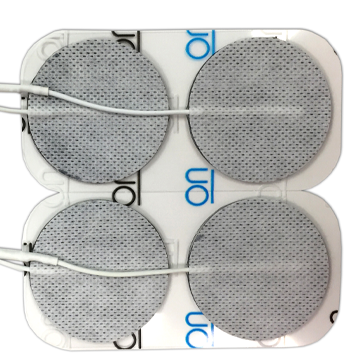 180-0011-00
2" Round Electrodes
2" Round self-adhesive, reusable electrodes. Designed for use with transcutaneous electrical stimulation devices to ensure consistent, safe, comfortable electrotherapy treatments. Package contains 4 electrodes.
Shape and size ideal for small, curved body areas (e.g. upper back, shoulder, knee)

Superior quality and durability provides multiple applications

Constructed for optimal current distribution

Connects to standard 2mm diameter pin cables

Made in the U.S.A.

Includes free shipping
Indications for use:
Reusable, self-adhering, over-the-counter Neurostimulation Electrodes are indicated for use with transcutaneous electrical stimulation devices. Some common types of transcutaneous stimulation devices include, but are not limited to, transepithelial nerve stimulation (TENS) and electrical muscle stimulation (EMS) devices. Transcutaneous Neurostimulation Electrodes are passive devices serving as an interface between a user's skin and a neurostimulation device.
Made in the USA
All RS Medical electrodes are manufactured in the USA. Despite manufacturing trends to off-shore production, our manufacturer vertically integrated their supply chain to ensure the highest possible levels of process and quality control. All RS Medical electrode products are latex free.
Patented and durable
Featuring a patented multi-layer MultiStick® hydrogel, our wired electrodes are known for their durability and multiple applications to the skin. The hydrogels utilize a patented, multi-layer technology, which provides an optimal bond between layers to prevent delamination. Innovation and a scientific blend of materials create an effective and durable electrode that promotes optimum treatment while being gentle to budgets and patients alike.